Simplify data
collection with an all-in-one PDF form creator
pdfFiller makes it easy to create PDF forms online and have them filled out from any device. Simply drag and drop fields on your document and your online fillable form is ready to go live.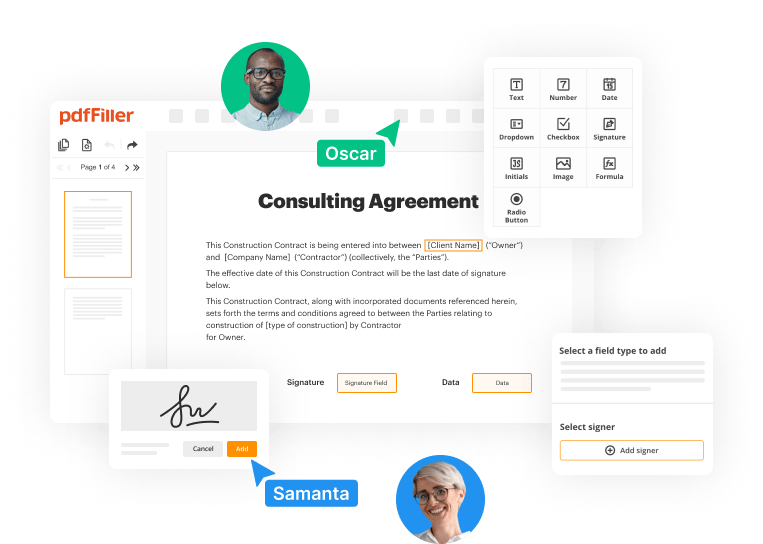 Everything you need
to collect accurate data and manage online PDF forms
Create a fillable PDF form
Easy-to-use PDF editor
pdfFiller is more than a PDF form builder. It allows you to quickly edit PDF documents before turning them into fillable forms, so you can manage all your workflows in one place.
Variety of fillable fields
Select from a wide range of fillable fields suited for different types of documents and data: text, dates, signatures, dropdowns, images, currency, credit card numbers, and more.
Field customization
Make your online fillable forms easy to complete and eliminate potential errors. Customize field labels, set validation rules, and make fields required or conditional.
Advanced sharing
Publish your fillable forms online using LinkToFill. Allow anyone to complete your forms from any desktop or mobile device via a link, QR code, or button embedded in your website.
Convenient data exports
Keep filled-out forms organized in folders inside your pdfFiller cloud storage. Download any document or export data from completed forms to a spreadsheet with a few clicks.
Industry-leading security
pdfFiller is committed to maintaining global security and compliance standards such as HIPAA, GDPR, PCI DSS, and SOC 2 Type II.
Collaboration tools
Add multiple users to your pdfFiller account and create teams to collaborate on your fillable PDF forms together with your teammates.
Custom branding
Apply your company logo to your fillable forms and notifications to make a professional impression on your customers.
The most straightforward way to create PDF forms online
Add fillable fields to your PDF using an intuitive drag and drop editor.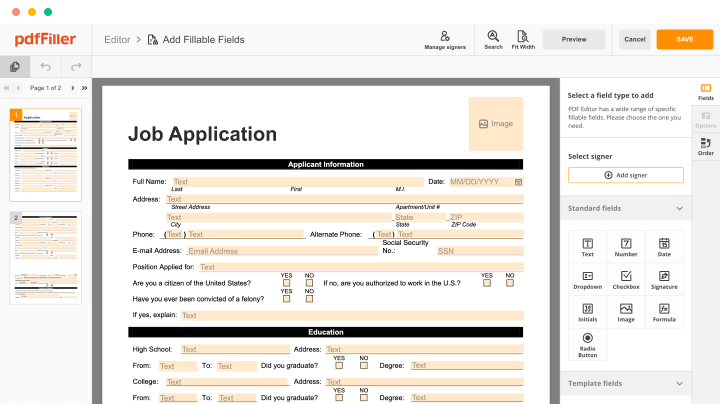 Share your fillable form online so that your recipients can easily access it.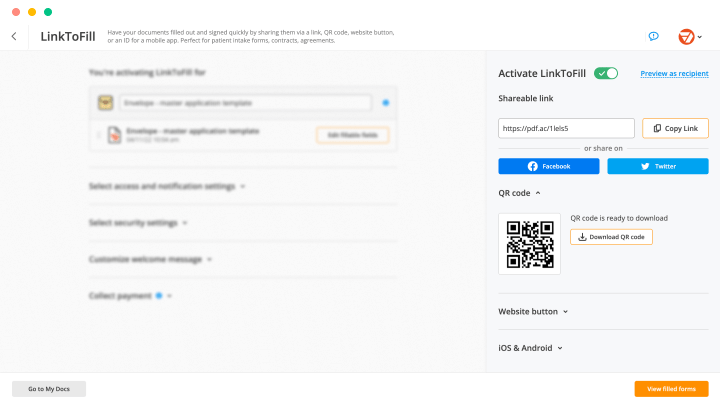 Ensure a hassle-free completion experience for your recipients – on any device.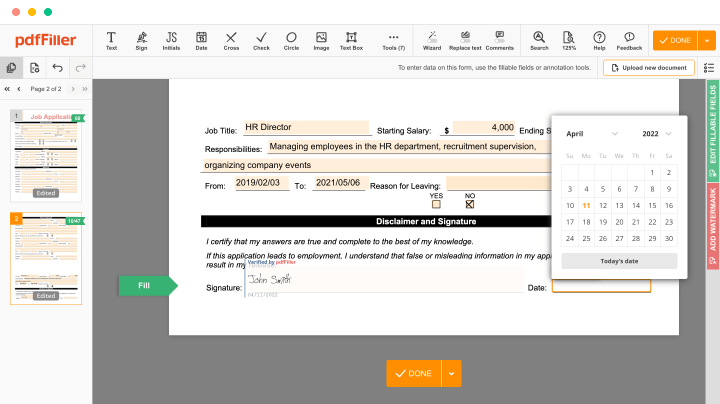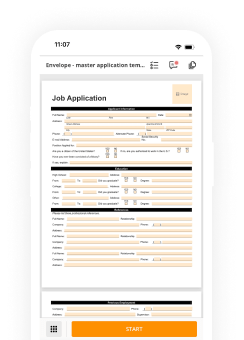 Instantly receive completed forms and export filled-in data with ease.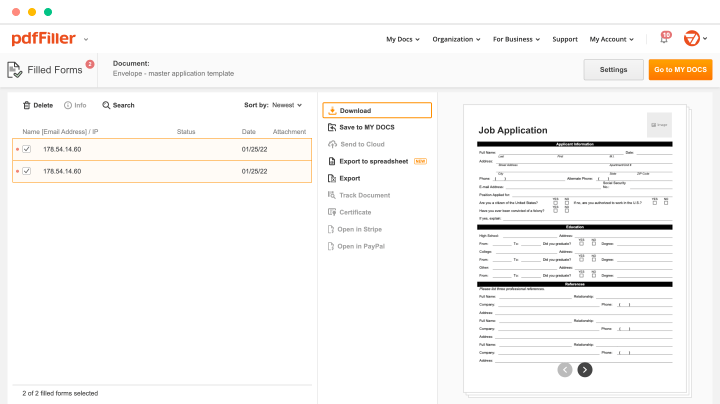 Every feature you expect from a fillable PDF creator and much more
Create professional-looking forms
Embed images and videos in your forms
Use out-of-the-box integrations
Customize fillable fields
Fill out forms on any device
Find forms in the pdfFiller online library
Set reminders and notifications
Set recipient authentication
Apply custom branding to forms
Access forms via a link, QR code, SMS, or website button
pdfFiller users are talking
I had trouble with printing but being the stubborn person I am, I did not request help. I did manage to print after a while. When I did complain, they listened and made a correction on the bill. I'm quite happy with the program now.
Ruth H
It would be much more efficient if multiple copies of the same form were filled automatically with the information entered on the original. Completing the documents should be quicker and simpler, no reason one has to play with font size and trying to pin point the location of the mouse to ensure proper destination in the field of entry on the form.
Aleks
The pdf filler has been excellent to use to date. I haven't explored the other options available, such as sign and send, although, I will definitely look into a full options account. Cheers.. Millway Security Scott Miller.
Millway Security Scott M
Some instructions were rather confusing but customer support helped me to find my forms and get them printed and deleted. Thank you for your assistance.
Marian
PDFfiller is a GREAT program with INCREDIBLE customer service! PDFfiller is a GREAT program! It is very easy to use. It helped me tremendously when I had a project and needed to fill out literally hundreds of documents online. The program worked very well, was incredibly responsive, & even kept all of my documents for easy access as well. Most importantly, however, is that they have absolutely INCREDIBLE customer service! I used the chat feature and it was totally painless and even enjoyable. I was treated very well by the chat rep (Paul)! I am a single mother who is trying to start a small business with VERY limited funds. I meant to cancel my plan before my 30-day trial was over. Like so many other times in my hectic life, I guess I forgot! I was quite anxious about it as many companies charge high cancelation fees if you fail to cancel during the trial. There was no need to worry though. I simply logged into my account and then I saw the chat feature. I chose to use it even though I was hesitant to do so (many companies do not provide very good customer service through chat). The response time was extremely fast. I asked to cancel my membership and he replied right away that he would do that for me. Here is the best part, he then proceeded to ASK me if I would like a refund as well!! Now that is WONDERFUL CUSTOMER SERVICE!! Thanks so much, PDFfiller & Paul! I will definitely use them in the future and recommend them to my family and friends. You just do not see that level of customer care combined with great products anymore. I was quite impressed!
April A
It works like a charm Copy, paste and cut text on PDFs in the document editor. " At first I thought they were scammers, but I took the risk and paid for what they asked for. Now I use almost everything they offer. I like that I do not need to download and upload the document back. I would like to print the document immediately after editing. Now I need to save it first and then I can print the document
Lars G.
All-in-one PDF software
A single pill for all your PDF headaches. Edit, fill out, eSign, and share – on any device.